What can The Moroney Company do for you? The following chart provides a general overview of services offered, with the descriptions of each service below. Don't hesitate to contact us with any questions.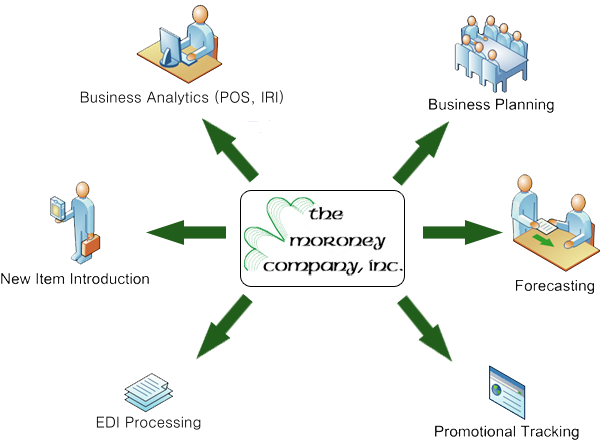 Customized reporting tools available to track current sales trends as well as uncover new opportunities for our clients. We are able to provide our buyers and clients a variety of reports in a concise format that will enable them to identify exactly where their business is and where they can grow. We can also uncover potential issues before they become a major dilemma.
Key aspect for both manufacturers and customers. We work to prepare detailed analysis of both projected sales and profit potential for the customer. Our customized program is a proven tool that has been utilized by many of our key customers. If you are not properly prepared prior to your appointment your success is significantly minimized.
We will provide a complete order entry tracking system, managing Purchase Orders from inception through delivery.
Comprehensive plan outlining various go-to-market strategies, including both branded and private label opportunities.  We will work with you to formulate attainable goals. This is the key to implementing a successful plan to drive sales.
Assist with inventory levels both current and future with detailed analysis of in store and warehouse levels. We are able to provide everyday sales data as well as promotional lift activity to ensure expected in stock levels from our key customers.
Detailed analysis to ensure that designated marketing funds achieve the sales volume forecasted in the annual plan. Are you currently spending your valuable marketing dollars correctly?